About the Aquatic & Fitness Center
An Extraordinary Past
"I remember arriving at the center one day and finding some Special Olympians hovering about," said Harris Rosen. "One of the youngsters recognized me as a swimmer there. They asked me if they'd done something wrong to have it closed. It broke my heart. I knew I had to do something." At that moment, Rosen, a local hotelier, became an activist for the aquatic and fitness center.
Harris Rosen rallied support from Orlando organizations, celebrities, and from Orange County itself. He understood the importance of the aquatic and fitness center to the community. As an avid swimmer himself, he knows how one's fitness can define and develop character. Fast forward to today when the ownership of the aquatic and fitness center, previously known as the Rosen YMCA Aquatic Center, is now in the hands of those who saved it. (Here's another true story about our exciting history.)
Our Mission
With courage, drive, and determination, the mission of the non-profit Rosen Aquatic & Fitness Center is to elevate the health and wellness of those who enter our facility through inclusive and supportive programs that benefit athletes and community members of all abilities. Through our mission, we also proudly serve as a supportive and vital member of Orange County by expanding our efforts to include community-benefiting events to improve the wellness of our local community.
Improve Your Fitness in the Swimming Pool
We've worked hard to renew our aquatic center which contains two Olympic-size pools, one regular pool, and an endless pool/spa. It is one of seven dryland diving performance centers. It also has one of the fastest competition pools in the nation and is also the host home of the local Man-O-War Special Olympics swim team. Our aquatic center includes:
Dive well with 4 lap lanes
Dive tower with three platforms: 5m, 7m, and 10m
Five 3m and five 1m springboards
Competition pool with 17 lanes – 16 competitive lanes and 1 ladder lane
Heated (86 degrees Fahrenheit) teaching and training pool with 7 lanes
An endless pool/spa which is motorized to simulate lap swimming in a spa-like pool and rigged with mirrors to provide specialty training for swimmers
Make a Difference Today
We strive to make a positive impact on the community, and we need your help. Your donation helps us expand the reach of our wellness program to qualifying members in the Orlando communities who require financial assistance. Some of the members who've received aid have included Special Olympic athletes and senior citizens. We aim to help many others. Please consider giving through a direct donation or by shopping on Amazon. Details on how easy it is to donate are below.
Improve Your Fitness in the Gym
Reach circuit training and body toning goals with the right equipment. Members have access to over 60 machines on the floor including:
Treadmills
Ellipticals
Stationary bikes
Arm, back, chest, and leg machines
Free weights, squat racks, and more
Fitness Classes Orlando Needs
If you thought aquatic therapy was only for recovery, we're excited to show you how it also applies to fitness. We provide fitness classes in and out of the pool. Our goal is to offer a variety of classes to keep you active in creative and fun ways.
Adult Aquatic Classes: Private swim lessons and group classes like water Zumba and more
Kid Aquatic Classes: Group and private swim lessons
Special Needs Aquatic Classes: Group and private swim lessons
Aquatic and regular Zumba
Martial arts and other classes coming soon!
We're adjusting the way we approach fitness to better meet your needs. We may soon stream our in-person classes so you can stay fit anywhere.
Combating COVID-19
Adopting the Rosen standard of quality service and the detailed cleaning procedures from Rosen's Total Commitment are ways we keep our members, guests, and associates safe. We kindly ask you to follow a few house rules while enjoying our facilities.
First, if you're not feeling well, please rest and stay at home.
We recommend that members and guests wear a mask while in the center except while swimming, showering, or using cardio equipment.
Hand sanitizer is available throughout the center. Please help yourself to a pump or two and wash your hands before and after using any equipment.
After using the gym equipment, please wipe it down using the disposable wipes and disinfectant provided near the machine.
Maintain proper social distance from other members and guests as best as possible.
We understand that the nature of your visit means you will probably be focused on your fitness or cheering on your competitive swimmer. We hopefully have created an environment that helps you by:
Staggering use of equipment to create space between members
Staggering use of equipment to allow staff to deep clean out-of-use equipment
Having staff clean all equipment frequently throughout the day
Moving cardio equipment into rooms with higher ceilings and better air circulation
Adding a plexiglass partition at the front desk to help protect the associate and guest
Changing Facilities
Locker rooms, restrooms, and changing areas are available through the center.
A family restroom with a changing area is located on deck (by the pool area)
Spectator restrooms for Men and Women are located by the pool area
Locker rooms for Men and Women are on deck (by the pool) with hot/cold showers, self-serve lockers, and private changing areas
The Rosen Aquatic & Fitness Center is a Cashless Facility
Ever accidentally leave cash in your workout clothes or swimming gear? The soggy result is definitely frustrating. Well, there's no need to even carry cash when visiting the Rosen Aquatic & Fitness center — we're a cashless operation! We accept major credit cards, most mobile payment services, and debit cards.
---
Meet The Team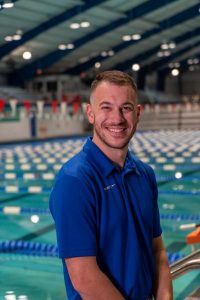 Rosen Aquatic & Fitness Center Executive Director Michael Miller says the most rewarding part of his career is the opportunity to meet people who share the same interests, wellness goals, and love for the community. In that vein, he hopes the Rosen Aquatic & Fitness Center provides a safe and inviting environment that encourages its members and visitors to lead healthy lifestyles, promote sportsmanship, and help grow aquatic sports. It's a mission Mike has served for many years in various roles.
Homegrown in Ohio
Mike was born and raised in Farmersville, Ohio, which he describes as a small town that had no traffic lights, just one lone stop sign. He moved on from the small town to graduate from Ashland University in Northeast Ohio with a bachelor's degree in sports management and a focus on business administration.
A Career Start in an Aquatic Center
While in college, Mike worked as a lifeguard during the summers at the Farmersville Family Aquatic Center. Later, he earned the opportunity to manage the facility. Mike's career jolted forward when he landed an internship with the SPIRE Institute, an Olympic and Paralympic training facility in Geneva, Ohio. During this time working with international competitions, Mike discovered a passion for aquatic events.
Upon graduating, Mike was named aquatic and operations director at SPIRE Institute. He remained in that position for three years before making his move to Orlando, Florida, to accept the role of aquatics director of the Rosen YMCA Aquatic Center. Here, Mike took on many roles including director positions in the areas of events, programs, and operations.
Time with Friends and Family is Important
Stop by and say hello to Mike. He's always willing to talk about aquatic events but also quick to chat about sport, grilling, or his two pups, Duke and Duchess, which he and his wife Audra love to spoil with car rides and pup ice cream. For the Millers, time with friends and family is important, so is the time Mike spends volunteering with the local Boy Scouts and Special Olympic groups.