Fitness Membership
Does every fitness center provide access to two-Olympic size swimming pools, a free weight center, and a variety of fitness classes in and out of the pool? Yours does.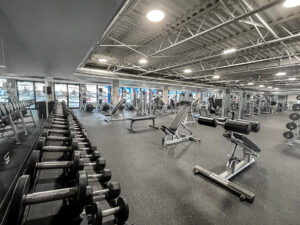 Members of the coolest (and biggest) aquatic and fitness gym on I-Drive have access to great fitness classes, a fully stocked gym, personal facilities packed with amenities, and those two Olympic-size swimming pools. Our competitive rates include a lot of benefits for our members.
We also offer discounts for those employed in the hospitality industry as well as their family. Details on all of our rates and qualifications are below.
Members can access their account information by calling 407-996-3444 or emailing membership@rosenaquatic.com.
Coming Soon: Free and reduced memberships for qualifying individuals and families and free classes for all to enjoy.
---
Monthly, Daily, and Discounted Rates
We have rates for all types of members. Our discounted hospitality rates are provided only for employees of the I-Drive District.
Membership
Monthly Fee
Joiner Fee
Family
$70
$50
Family +1 Adult
$90
$50
Family +2 Adults
$110
$50
Family +3 Adults
$130
$50
Adult
$40
$25
2 Adults
$60
$50
Adult + Dependants
$60
$50
Young Adult (19-25)
$30
$25
Teen (13-18)
$20
$25
Senior (65+)
$30
$25
2 Seniors (65+)
$50
$50
Hospitality Family
$35
$50
Hospitality Family +1 Adult
$45
$50
Hospitality Family +2 Adults
$55
$50
Hospitality Family +3 Adults
$65
$50
Hospitality Adult
$20
$25
Hospitality 2 Adults
$30
$50
Hospitality 1 Adult + Dependants
$30
$50
Hospitality Young Adult (19-25)
$15
$25
Hospitality Teen (13-18)
$10
$25
Hospitality Senior (65+)
$15
$25
Hospitality 2 Seniors (65+)
$25
$50
(Hospitality rates reflect a 50% discount)
Guest Fee (1 Day)
$10
$0
Guest Fee (3 Days)
$20
$0
Guest Fee (7 Days)
$30
$0